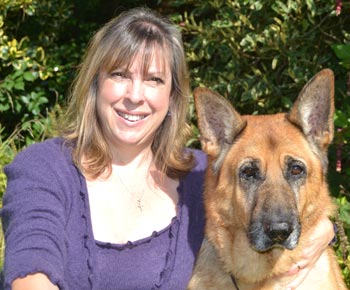 Welcome to my website.  My name is Sarah Robinson and this is my journey…..After working in the financial services arena for over 15 years in the City of London, and following my subsequent redundancy from the NatWest Group, I decided on a change of career and to follow my heart and start working with animals.  Although I have grown up with dogs, and currently have a German Shepherd Dog called Daizy, I initially started work as a Racing Secretary in the world of horse racing and working around the horses and all the other animals around the farm, reignited my life-long passion of animals.
However, after suffering the trauma of a minor hand injury (ironically rescuing a dog running in the road); enduring four operations and numerous physio treatments, I decided to find 'alternative' therapies to help heal myself – both mentally and physically – and I found Reiki.  I was so impressed with the treatment that I decided to learn how to self-heal myself and undertook a course to learn the teachings of the Usui Shiki Ryoho system of Reiki.  I am now a fully qualified Master Reiki Practitioner and Member of the UK Reiki Federation. A self-regulatory body whose practitioners are bound by a Code of Ethics & Standards of Practice.  I am also registered with the Complementary & Natural Healthcare Council which was set up by the Government to protect the public and ensures all registrants have agreed to be bound by the highest standards of conduct; are all professionally trained and fully insured to practise.

UK Reiki Federation Member 
Animal Reiki & Communication
In loving memory of my late German Shepherd dog, Zak, who introduced me to the world of animal communication and has brought me on this journey of enlightenment. I have been studying this course for the past three years and have now qualified as a Professional Animal Communicator by passing the Animal Communication Level 3 Diploma (with Distinction) from Stonebridge Associated Colleges.
All of our animal friends enjoy Reiki energy healing, especially my own dog who loves her regular treatments. I have recently undertaken a course with Kathleen Prasad, a Reiki Master, Founder &  Director of Animal Reiki Source in California and President of the Shelter Animal Reiki Association.